Compostable paper coating
SUSTAINABLE SOLUTIONS FOR PAPER COATING
For those cardboard products that require film coating to extend their properties, INZEA has compostable solutions for coating to paper, thus allowing a correct waste management together with the organic waste at the end of its useful life, favouring the sustainability of the environment.
INZEA's biopolymer grades suitable for paper coating allow a coating with a minimum thickness at high speed, thus enabling the protection of the container against liquids and fats from the food deposited on it.
Similarly, INZEA's biopolymers allow contact with food, so that paper coating with compostable biopolymers complies with all food safety regulations and standards.
INZEA FOR BIODEGRADABLE AND COMPOSTABLE PAPER COATING
Paper coating is used to improve the properties of the paper. INZEA grades allow minimal coating at high speed, achieving low grammages, which, in addition, have contact with all types of foodstuffs that help to protect the paper from liquids and grease.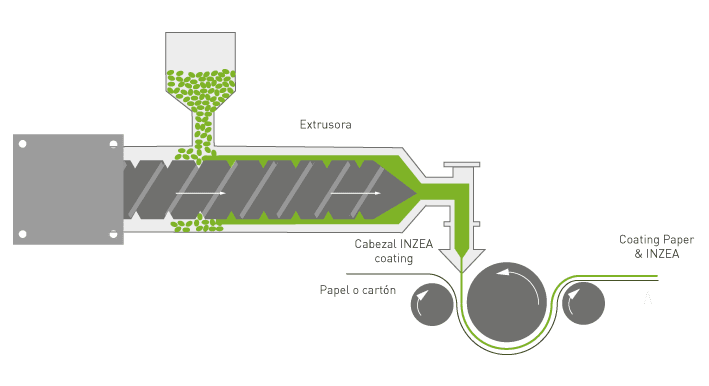 The world is changing and the plastics industry has to adapt to a new situation where sustainability is a priority for governments, businesses and consumers. INZEA® is our response to our customers' demand for more sustainable plastic materials.
INZEA is a range of biopolymers which can replace traditional plastics in different applicationssuch as bags, mono-use items and packaging, with the advantage of being biodegradable and compostable.
INZEA product range is obtained from renewable sources and is designed to return to nature by different disposal methodslike industrial & home composting, or by biodegradation in different environments.
Do you want to know all the news of Nurel Biopolymers?
Subscribe to the Newsletter