50 YEARS OF EXPERIENCE IN POLYMER PRODUCTION
NUREL ENGINEERING POLYMERS, a Spanish company, is part of the SAMCA Group and has more than 50 years of experience in polymerization of polyamide and development of engineering plastics.
NUREL started its polyamide production in 1968. Since its acquisition in 1999 by the SAMCA Group, there have been continuous investments in technology and an increase in production capacity that have strengthened NUREL's presence as a producer of engineering thermoplastics.
SAMCA's corporate policy is based on constantly supporting the group's research and development activity, together with a constant reinvestment of profits in the acquisition of state-of-the-art technologies.
Over the years, NUREL has acquired a wide knowledge in polymer chemistry and has put all this learning at the service of its customers, by developing polymers for any type of application, either by extrusion or injection.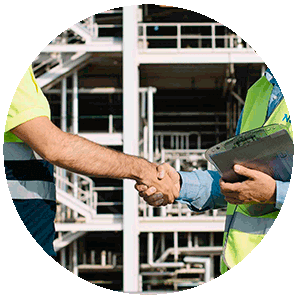 INNOVATION AND EXCELLENCE DEFINE US AS A COMPANY
Innovation is a priority for NUREL Our R&D&I team concentrates its efforts on the development of new products by modifying the polymeric chain and the correct choice of additive packages, in order to meet the requirements of the most demanding injection and extrusion applications.
Our main objective is to guarantee high quality products with stable properties and sustainable production. For this purpose, we use our state-of-the-art technology and polymerization know-how, striving for excellence from the procurement of our raw materials to the packaging of our polymers.
In line with our commitment to Quality and Sustainability, our plant is evaluated year after year under the ISO 9.001, ISO 50.001 and ISO 14.001 criteria.
INTEGRATION AND INVESTMENT ARE THE KEYS TO OUR SUSTAINABLE DEVELOPMENT
We believe that sustainability must be based on the excellence and control of all our processes. At NUREL we are committed to vertical integration as the key to reducing our environmental impact, thus reducing intermediate displacements, reducing the generated waste and taking advantage of the energy resources that we, ourselves, generate.
In recent years, we have worked to enhance our vertical integration:
MANUFACTURING OF POLYMER COMPOUNDS: Acquiring new compounding lines at our premises enable us to reduce intermediate displacements and therefore our carbon footprint.
POLYMER RECYCLING: This new investment allows us to reuse the discarded nylon bobbins in our spinning and convert them into recycled compounds for injection moulding applications.
100% SUSTAINABLE ENERGY: 22,000 solar panels have been installed for self-sufficiency.
Do you want to know all the news of Nurel Polymers?
Subscribe to the Newsletter