POLYMERIZATION INTEGRATED INTO IN-HOUSE COMPOUNDING
Our compound polymerization and extrusion plant in Zaragoza, Spain, is subject to a process of continuous improvement in technology and production standards. NUREL's employees strive to exceed the expectations of our customers with products and services of the highest quality.
POLYAMIDE AND COMPOUNDS PRODUCTION EXPERTISE
The 50 years of experience in polymerization and the new investments in extrusion of compounds, have allowed us to improve and expand our offer of polyamides and compounds of different engineering polymers. Our long history as a polymer manufacturer guarantees highly reliable and consistent products. NUREL manufacturing standards are based on three pillars: quality, safety and environmental sustainability.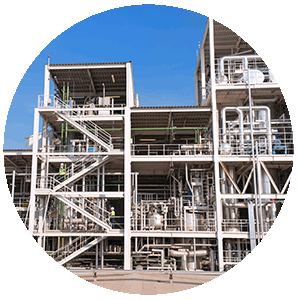 OUR POLYMER PRODUCTION ASSETS
Two continuous polymerization plants, six versatile production lines with a total capacity of 27,000 Tons
Three post condensation facilities
Two compounding extrusion units
Bulk storage facility as well as packed product warehouses
Recycling units and caprolactam recovery plant
Water treatment plant and caprolactam recovery plant
Packaging lines for bulk, octabins, big-bags and 25 kg bags
Installation of photovoltaic power plant for self-consumption
QUALITY AS OUR STRATEGIC VALUE
Quality is a strategic value for NUREL, and is understood as one of the main tools contributing to meet and exceed our common success.
Our main objective is to guarantee high quality products with stable properties. For this purpose, we not only use our state-of-the-art technology and our know-how in polymerization, but also, we work upstream with our raw material suppliers.
In accordance to our commitment with Quality and Sustainability, our plant has achieved the ISO 9.001, ISO 50.001 and ISO 14.001 certifications.
Do you want to know all the news of Nurel Polymers?
Subscribe to the Newsletter