Polyamide 6 and copolyamides for food containers
Currently, the challenges in food packaging design are aimed at extending the shelf life of food and ensuring optimal mechanical behavior throughout the distribution chain, while providing an attractive design for consumers.
Promyde polyamides are used in the packaging industry for their excellent mechanical properties, barrier properties and for providing a quality finish thanks to their high gloss and transparency.
Promyde has extensive experience in the manufacture of PA6 for food barrier packaging. In order to meet the increasingly demanding technical and sustainability requirements of the packaging industry, NUREL, over the last few years, has focused its innovation efforts on developing a complete range of copolyamides with unique performance in the packaging market.
Do you want to know more?
Working together to meet YOUR sustainable packaging goals
1. Your packaging
Let's define the packaging you wish to replace
2. Sustainable goal
What is the sustainable challenge your packaging needs to overcome?
3. Solution
we will propose you a REAL solution that will adapt to all your requirements
Are you ready to turn your packaging in a REAL sustainable solution?
Copolyamides with improved properties
Our R&D department has developed a series of copolyamides that complement the functionality of conventional PA6, providing solutions highly demanded by the packaging industry:
Deep thermoforming solutions
Polyamides that eliminate curling in asymmetrical structures
Low temperature sealable polyamides
High puncture and breakage resistance
Oxygen barrier solutions
Transparent polyamides that allow pasteurization and retort
Vacuum packaging shrink film
Polyamide for film extrusion adapted to every requirement
PROMYDE polyamides and copolyamides can be adapted to different extrusion processing methods, such as blown extrusion, triple bubble extrusion, cast extrusion and bioriented polyamide or BOPA.
In addition, NUREL works in collaboration with film manufacturers and packagers in the redesign of food packaging, analyzing the materials currently used and the specific requirements of each application.
Sustainable polyamide packaging
The European Strategy 2030 on reducing the environmental impact of plastic waste indicates that packaging should be 50% reusable or recyclable by 2025, 55% by 2030, reaching 60% by 2035. Moreover, less than 10% of plastic waste should be landfilled.
NUREL proposes to face this challenge in 4 different ways, with solutions for 100% recyclable packaging, with proposals for lighter packaging, bio-based packaging and with solutions for compostable packaging.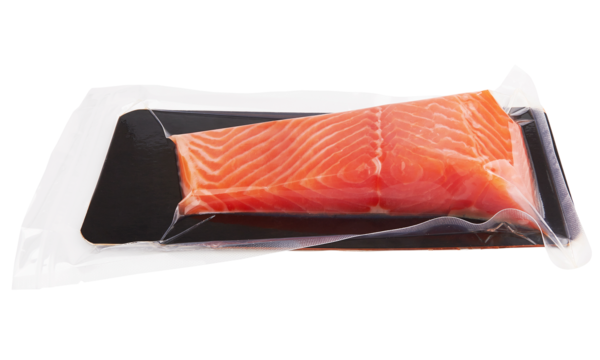 Barrier solutions
We have two new and innovative food packaging solutions to improve the oxygen barrier and permeability properties of polyamides.
Selaed films
Specially designed for the production of thermoforming films and vacuum bags, Promyde's portfolio includes sealable copolyamide with low sealing temperature.
High resistance films
Designed for the packaging of bone-in meat products in multilayer structures, Promyde improves resistance to tearing and puncture while maintaining optimum gloss and transparency.
Active packaging
Active packaging technology incorporates active ingredients encapsulated in the polymer to provide antioxidant and antimicrobial properties, extending the shelf life of packaged foods.
Antiviral solutions
Applicable to all types of polymers, VI_SAFE minimizes the risk of virus transmission by contact with surfaces.
Delaminación de films
NUREL ofrece una NUEVA cartera de materiales de alta barrera que pueden ser solubles en agua a diversas temperaturas, facilitando así la reciclabilidad de las estructuras multicapa.
Thickness reduction
Thanks to the high barrier performance of our Promyde copolyamides, the amount of polyamide in multilayer or monolayer structures can be reduced.
Recycled
NUREL offers high-quality recycled materials, both pre and post-consumer, to significantly reduce environmental impact and decrease dependence on non-renewable materials. Our range of recycled solutions includes PA, PP, and PET
Recyclable
Thanks to our wide range of copolyamides and barrier polymers, we offer solutions to achieve the recyclability of mono and multi-material packaging.
Biobased
NUREL has developed a range of solutions with bio-based and biocircular content to reduce environmental impact and dependence on fossil sources.
Biodegradable
The new range of biodegradable PA6 has been designed to biodegrade in both aerobic and anaerobic environments, thus reducing its end-of-life environmental impact.
Do you want to know all the news of Nurel Polymers?
Subscribe to the Newsletter