NEW DEVELOPMENT OF POLYMERS AND COMPOUNDS
For new product developments we start from a customer request, based on the end-use of the product, its processing method and final requirements. At NUREL R&D&i department we start working on the product definition and propose a new formulation thanks to our polymer chemistry know-how.
We design the process from lab scale to industrial scale, and prepare a polymer sample for the customer approval. Once we confirm that the material is approved at the customer, we run an industrial production. Our technical capacity for the development of new polymers and compounds, together with versatility, innovation and quality consistency, deliver in a reduced time-to-market.
Characterization laboratory
Our laboratory is fully equipped in order to achieve a complete mechanical and chemical characterization of every polymer for any application. This information helps us to assure the quality of our products, and it is also used to support any customer project or demand.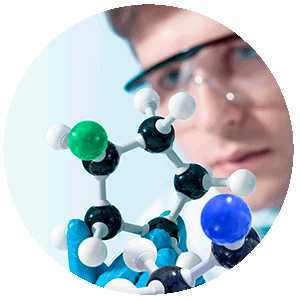 Our R&D team works closely with the customer at every stage of the process: starting with the project definition, product modelling, pilot prototyping, industrial scale-up and product approval
POLYMERIZATION R&D EQUIPMENT
Lab-scale polycondensation reactor:

Batch reactor designed for the product definition at lab-scale

Pilot-scale polymerization plant:

Universal polymerization pilot plant, integrated by a batch reactor, distillation tower condensers, automatic valves, vacuum line, extrusion and cutting system

Solid state postcondensation pilot plant: This equipment is optimum to dry or post condensate polymers in solid state
Pilot-scale twin screw compounder: Twin screw extruder designed for the production of plastic compounds, blends and masterbatches. Its main applications are the development of new products and sample production or small batch production of engineering plastics
Injection moulding machine: Its main function is the production of test samples or small parts
Cast and Blown film pilot lines: Designed for product development and sample production
Do you want to know all the news of Nurel Polymers?
Subscribe to the Newsletter