Lamination to paper, cardboard and cellulose
LAMINATION OF COMPOSTABLE TRAYS AND PLATES SOLUTIONS
INZEA® biopolymers are the perfect coating for cellulose, paper and board sheets and trays that need a compostable, waterproof and greaseproof material.
Paper and board packaging and trays are nowadays considered as a sustainable option for some applications. INZEA offers paper laminating grades with optimal adhesion, which are food contact certified and improve the resistance of paper and board to grease and liquids, while maintaining the advantage of compostability.
INZEA's biodegradable and compostable solutions for lamination simplify waste management, as both packaging and organic waste can be re-integrated into the environment. Thus, INZEA® provides a compostable film certified according to EN 13432 so that the packaging with organic material remains can have as final destination an industrial composting plant.
Paper and board lamination process with INZEA's biopolymers can be used for the coating of cellulose on trays and plates, coating of board and paper, or lamination of paper.
Paper, board and pulp lamination process with INZEA
INZEA presents different sustainable solutions applicable to numerous paper and cardboard lamination processes, allowing them to be managed together with any organic waste they contain at the end of their useful life.
INZEA® biopolymers can be laminated on standard equipment currently used for conventional polymers.
As regards the lamination of paper and board, there are different types of lamination, such as thermal lamination or adhesive lamination. In both cases, INZEA's biopolymers offer solutions to adapt to the technology of each of the processes, obtaining an excellent compostable and environmentally friendly lamination.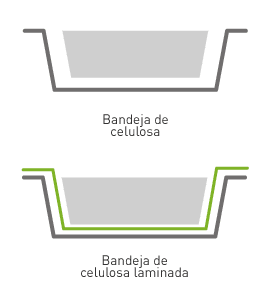 The world is changing and the plastics industry has to adapt to a new situation where sustainability is a priority for governments, businesses and consumers. INZEA® is our response to our customers' demand for more sustainable plastic materials.
INZEA is a range of biopolymers which can replace traditional plastics in different applicationssuch as bags, mono-use items and packaging, with the advantage of being biodegradable and compostable.
INZEA product range is obtained from renewable sources and is designed to return to nature by different disposal methodslike industrial & home composting, or by biodegradation in different environments.
Do you want to know all the news of Nurel Biopolymers?
Subscribe to the Newsletter